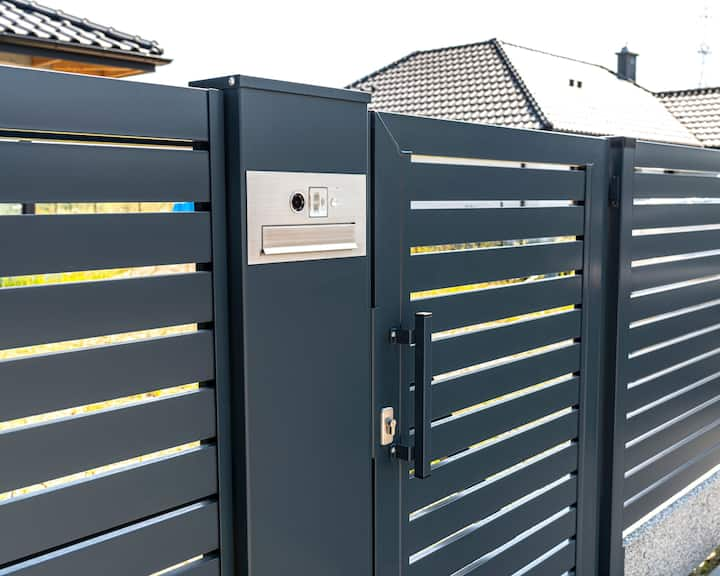 The Importance Of Gate Design: Your First Impression Matters.
The gate design is the first thing a person notices when approaching a building. The gate design is often the first impression people have about the property, and it is an essential factor in how they perceive it. It sets the tone for the whole area, conveying a message to passersby about what kind of place they are entering. To create an inviting atmosphere and foster a sense of belonging, gate designs should be carefully considered and tailored to reflect the character of their surroundings.
Experience exceptional gate designs with Alexandria's fencing Experts.
When you choose our network for your gate installation, repair, and driveway gate needs, you can rest assured that you're getting quality materials and unique designs. Our team of experts has years of experience in the fencing industry and provides various services. They specialize in custom-made gates to suit any property or budget. Our experts use top-notch materials built to last, including galvanized steel, aluminum, wood, vinyl, chain link, and more. Plus, our team is skilled in installing ornamental gates made from wrought iron and other metals for a touch of elegance.
Get in Touch Today!
Our team wants to hear from you about your gate installation and repair needs. No gate job in Alexandria is too big or too small for our experienced team!
Quality gate installation and repair for Alexandria's properties.
Our team understands how important it is to have a secure gate to protect your property. They specialize in installing and repairing various gates, including privacy fence gates, security gates, and electric gates. Our experienced technicians are committed to providing exceptional customer service and high-quality workmanship in every job they do.
Our installations are completed with the utmost care, ensuring all safety standards are met. They also offer routine maintenance services to help extend the life of your gate and keep it in optimal working condition. They understand that each client has unique needs regarding their gate design, so our technicians use their expertise to customize each installation according to the client's specifications.
Advantages of home driveway gates
Adding a residential driveway gate can provide an array of benefits to homeowners. From providing an extra layer of security and privacy, to increasing the property value, driveway gates offer many advantages:
Security: Driveway gates can act as an effective deterrent for trespassers, keeping your family and possessions safe from unwanted visitors.
Privacy: With a secure gate in place, you can create a private space where you and your family can relax without worrying about people watching or intruding from outside.
Property Value: A well-designed gate can add aesthetic appeal to your home and increase its overall value. In addition, it may also make your house more desirable to potential buyers if you decide to sell in the future.
From improved security measures to increased property value, there are many reasons why homeowners should consider installing a residential driveway gate on their property. Not only do they provide added protection and privacy, but they also improve the look of your home and could even increase its overall worth in the long run. Ultimately, investing in a quality driveway gate is an excellent way to ensure that your home remains safe and secure while adding style and beauty at the same time.
Exploring home gate options: swings, slides, and more
Gate designs are important for a variety of reasons, including security, aesthetics and functionality. Swing gates, slide gates and other types of gates all have their own advantages and disadvantages. Swing gates are hinged on one side and swing inward or outward from the opening. They provide an effective barrier to access areas, while allowing for easy entry when needed. Slide gates, on the other hand, slide along a track to cover an opening. This type of gate is ideal for narrow openings where space is at a premium.
Electric and security gates for enhanced property protection
Security gates and electric gates are an important addition to any home due to their ability to provide an extra layer of protection. Security gates are designed with a variety of materials, such as wood, aluminum, vinyl and wrought iron. In addition, these gates can come in many different styles ranging from traditional swing gates to modern sliding gates or even cantilever gates. Electric gates offer even more security with the added benefit of automation. They can be powered by either solar energy or electricity and can be outfitted with additional security features such as keypads, sensors, cameras or access control systems.
The installation of security and electric gates requires careful consideration of the size of the gate opening, the type of material and style being used, and the power source needed for automation purposes. Additionally, a professional should be consulted prior to installation to ensure that all safety guidelines are met. With proper planning and installation, security and electric gates can provide homeowners with peace of mind knowing that their property is well-protected from potential intruders.
Key considerations for gate installation
When considering the installation of a gate, there are several factors to take into account. These include the size and shape of the entrance, as well as any restrictions that may apply due to zoning or building regulations. It is important to ensure that all relevant requirements are met prior to installation. Additionally, careful consideration should be given to materials and design elements such as color and texture. The gate should be designed in such a way that it complements the existing architecture and landscape of the property.
The security of the gate is also an important factor in its design. Gates can be fitted with various locking systems for added protection, depending on their usage and location. This can range from simple keypads or card readers for access control, to more advanced biometric systems for heightened security. Furthermore, gates can be automated or manual depending on individual preferences and budget constraints. Automated gates are more convenient but require more maintenance than manual options so it is important to weigh up these considerations before making a decision.
Unmatched security and style: discover our commercial gate solutions
When it comes to commercial properties, the importance of gate design cannot be overstated. Not only does a gate need to provide security and privacy, but it must also make a statement about the business or institution it is protecting. Commercial gates need to stand out and represent the values of the professionals they are protecting in an aesthetically pleasing manner.
The design of commercial gates should both complement and contrast with the surrounding environment. It should reflect the organization's personality while providing visitors with a sense of security. There should also be consideration for ease of use for employees, customers, and vendors alike. As such, choosing materials that are durable, reliable, and require minimal maintenance is essential for long-term success. Additionally, numerous automation options are available for commercial gates that can increase convenience and improve accessibility when needed.
Choose Alexandria's experts for gate installation & repair needs
When it comes to choosing a fencing professional to install and repair gates, our experts stand out as the premier choice. With plenty of experience as a fence network, our team has established a reputation for providing exceptional service, high-quality materials, and superior craftsmanship. Whether you are looking for a classic wrought iron gate or a more modern design, their team has the expertise to build a secure yet attractive gate that complements your home or business.